Jake was born on October 29, 2021, at Wakonda Farms in Sugar Grove, West Virginia. Nestled in a hidden valley between the Allegheny and Shenandoah Mountains, Richard and Shelby breed and farm-raise Hungarian Vizsla pointers and retrievers. Their dogs are not bred to show, but to serve as loving and protective family members. Known for their extremely affectionate nature, these highly intelligent bird dogs make the ideal hunting partner as well as family companions.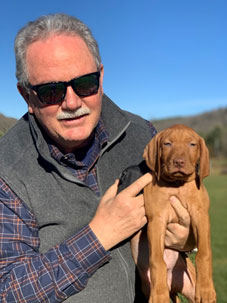 We picked Jake from a litter of 8 puppies born to Rhett and Braylee his AKC certified parents and brought Jake to our Lake Anna, Virginia home when he was about 10 weeks old. That's when the fun began! We felt that we would be remiss living without a dog to join us on boating excursions around Lake Anna and while living out our lives within the wonderful Lakefront Community of Sunset Cove.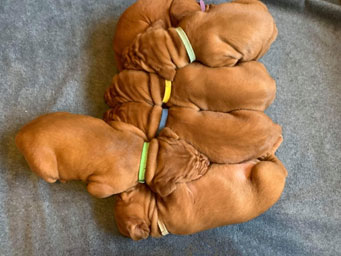 Jake has assimilated well to his new home and has successfully destroyed just about every toy imaginable. He likes to chew especially now that he's teething. He's a good boy and loves his value treats of rotisserie chicken. Vizslas are very food motivated which helps with training. He's happy to greet strangers and other dogs with a tail and hind quarters that just don't stop wiggling! Everyone in the community is getting to know Jake @ the Lake!
You may reach Jake's blog directly by visiting: JakeattheLake.blog Please come back regularly to view his escapades as Jake explores beautiful Lake Anna! You may also follow Jake on Instagram: @attheLakewithJake
Jake says you are welcome to contact his humans anytime if you'd like to stop by and say hello or to set up a play date. They would love that!
The Berger's @ Lake Anna
a.k.a. Jake's humans!
bergerteamva@gmail.com