Vacation home sales have been surging during the pandemic, according to the National Association of Realtors®
The surge in the demand for vacation homes has occurred during the pandemic when people are able to work from home, students are schooled virtually, people are taking safety precautions and staying away from crowded areas, and with urban-based recreation limited by social distancing regulations.
Home prices rose at a stronger pace in vacation home counties which includes the areas surrounding Lake Anna. Nationally, the median existing-home sales price typically rose by 14.2% in vacation home counties, compared to 10.1% in non-vacation home counties.
53% of Vacation Home Buyers Paid All-Cash
77% Who Obtained Financing Put Down at Least 20%
Vacation home buyers are more likely to pay all-cash. Vacation home buyers are more likely to put down a higher down payment compared to all existing-home buyers. Seventy-seven percent of vacation home buyers put down at least 20% as down payment compared to just 49% among all existing-home buyers.
If you are thinking about selling your Lake Anna rental property this might be the time to do it as it's only going to get harder for buyers to qualify as interest rates increase and this seller's market isn't going to last forever. Consider a 1031 exchange if you do sell.
There are also plenty of reasons to purchase a second home. While 2022 may be a tough time to buy due to low inventory, there are benefits you might reap if you purchase a second home this year.
If your goal in buying a second home is to rent it out, now's a good time to pounce. While you'll pay more for that home than you normally would, rent prices are also up on a national level. If you'll be getting long-term or short-term vacation rental tenants to help pay your mortgage, it could offset your higher costs.
It's also worth noting that we're starting off the new year with mortgage rates sitting at competitive levels. But there's a chance they'll start to climb as 2022 progresses. Of course, even if that happens, rates will likely remain attractive on a historical basis.
Lake Anna offers a lot of opportunity to invest in vacation rentals. Having waterfront property, you can own while you are still working outside the area and convert to your personal residence once you retire is a good strategy.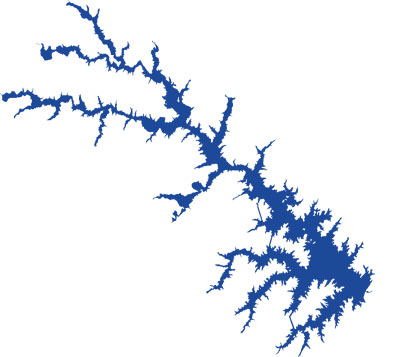 Lake Anna entertains lake lovers practically year-round, making it the ideal place to buy a home on the water for both personal and rental use. Whether you're looking to invest in a move-in ready waterfront property with all the amenities you can think of or a home that you can update and make your own, there are a few things to consider when buying a lakefront property – especially when you plan to use it as a short-term vacation rental.
Most lake vacationers are interested in boating and water sports and opt for rentals with access to a boat slip, dock, or boathouse. Rental properties positioned in an area where guests can enjoy a wide array of activities will attract a higher number of visitors.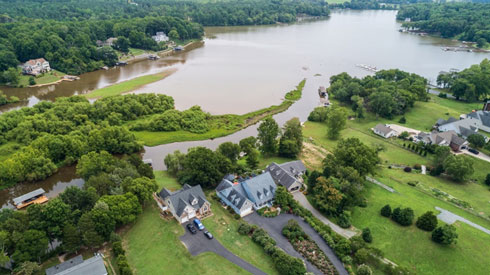 Find a real estate agent who's a true waterfront specialist. When it comes to picking an agent, you'll want to work with someone who lives at the lake, has a boat for touring the lake, can arrange to fly you over the lake to gain a birds eye view, has detailed knowledge about waterfront properties as well as extensive knowledge about the transaction process, 1031 exchanges, title issues, structural issues, and the way the market looks at the property. Choose an agent who holds a broker's license and has earned both the Certified Residential Specialist (CRS) and Resort & Second Property Specialist (RSPS) designations awarded by the National Association of Realtors®.
Inspect the property and waterfront carefully. Surveys, well & septic inspections, water quality tests, and more can be used to determine whether your waterfront home is a good investment. If you have the chance, go out on the water to be sure that your prospective new home isn't on a part of the waterfront that experiences low water levels or other problems. When you buy a waterfront home, you're also investing in the water itself.
Check insurance requirements. Look into landlord insurance for vacation rentals early. Insurance for waterfront homes varies. You most likely won't need flood insurance on Lake Anna as lake levels are maintain within a few feet of its 250 foot above MSL average. Consider an umbrella policy with a minimum of one million dollars in coverage.
Research the shoreline. It's not impossible that the shoreline moves over time and water levels tend to fluctuate based on season and weather conditions. If the water levels rise too far, you could end up losing or experiencing damage to your property. If the water levels fall too low, it may hinder the accessibility of the lake. With the help of a knowledgeable agent, explore the history and think about the future of the shoreline.
If you're purchasing a waterfront home with the intent of making it a rental property, be sure to understand the rental market in your area. Your agent can provide you with a rental market analysis and point you in the right direction regarding rental property management should you need it.
There's a lot more to it but these considerations should get you started. If you have any questions, please don't hesitate to contact me. I live full-time on Lake Anna and would be happy to help you.
JOHN BERGER, CRS, RSPS
Associate Broker RE/MAX Allegiance
Real Estate Investor, Licensed Private Pilot & Boat Owner!