Are you thinking about purchasing a lake home for your family? There are so many things you should know about living on a lake before you make the investment that will ensure an easy transition into lake life living! The following are just a few considerations you might want to make when purchasing on Lake Anna.
Lisa and I had been coming to Lake Anna for over 10 years before we finally decided to fulfill our dream of living there full-time. We took the plunge and now live in the beautiful waterfront community of Sunset Cove. Many considerations were weighed before making our decision that Lake Anna was right for us. Yet, once we knew for sure it was then just a matter of where on the lake should we live? Naturally part of that decision was budget driven. There are two options when it comes to buying on the lake … purchase resale or buy a lot and build. We wanted a brand-new home, so we opted to build and get exactly what we wanted at least when it came to our house. Sunset Cove is an age in place community with tons of amenities including a clubhouse, pool, weight room, covered boat slips, disk golf, pickle ball and basketball courts plus they cut your grass! Some folks don't want to live in an HOA and prefer a larger lot with more privacy but that comes with its own set of pros and cons.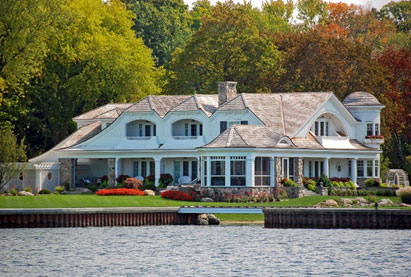 Lake Anna is comprised of two lakes: the public or cold side and the private or warm side. You cannot travel by boat from one side to the other. If you are indifferent, then it's going to be more about the home and the views than anything else. See the first blog article under "Everything Lake Anna" for more information about the makeup of Lake Anna.
The first thing you might ask yourself is what do you love about the lake houses you're looking at? Many homes around the lake are older and to convert them into your home you may need to spend some money on updating and/or additions. The water is captivating. You can get fixated on the lake and water views but what about the size, floorplan, and condition of the home? It's important to consider both the home and the water. Keep in mind that you can always upgrade a house (within reason) to your liking, but you can't do much to change the lake you're living on unless it's dredging or adding rip rap.
Something else to think about prior to purchasing a lake home is to make yourself aware of the rules and regulations set forth by the city, county, and state prior to purchasing your lake house property. Spotsylvania County is different from Louisa and Orange Counties in a lot of ways … property taxes being one of them.
What about amenities? High speed internet access is not available everywhere around the lake. We were fortunate that fiber optic cable was installed soon after we moved in. Currently Food Lion is the only major grocery store at the lake but there are plans to add another higher end food store at the intersection of U.S. Route 522 and Virginia State Route 208 directly across from Dickinson's Store and Shell Gas Station.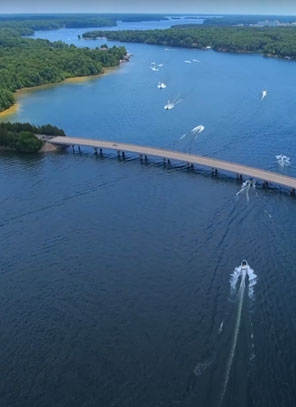 Lake Anna's water level does not fluctuate a whole lot, so it makes for a great lake on which to build permanent boat house structures vis-à-vis floating docks which are typically built on lakes with hydroelectric dams. The lake's normal level is about 250 feet above sea level. The lake's level is managed for the North Anna Power Station as well as for recreational uses and dam gates are opened at the lake's eastern end to enable a flow of up to 11,000 cubic feet of water per second, which equates to about 82,000 gallons. Even so torrential rains can raise the lake by 2 feet or so before remediation can take affect which means water may be over your pier and dock at some time during the year. Care must be taken not to release too much water and threaten property downstream of the dam along the North Anna River.
Most folks who visit or live here plan to use the water for enjoyment. Therefore, it's important to know the water quality of the lake where you are swimming, tubing, water boarding or jet skiing. The Chesapeake Monitoring Cooperative relies on volunteers like the Lake Anna Civic Association to gather samples from around the lake so that proper water quality monitoring is in place. https://www.chesapeakemonitoringcoop.org/
VA Department of Health will issue water safety warnings when they deem it appropriate. This happens sometimes in late summer due to algae blooms and mostly occurs at the western end of the lake where fertilizer and runoff from farms enters the lake. The proposed Senate's Budget Bill, SB30, reprograms $1M from the General Fund for a study of Hazardous Algae Blooms (HAB) occurring in Lake Anna. The bill was passed on February 24, 2022, and sent to the Virginia House for their action.
Be cautious of outdoor critters. Lake Anna has lots of birds who think docks are their sanctuary. The biggest problem is birds like herons, egrets and sea gulls poop everywhere leaving a mess. Many people place a decoy bird like an owl on the top of their dock to keep as many birds away as possible. We also have snakes, racoons, fox, deer, black bear, coyote, hawks and bald eagles. And then there's Big Foot … that's another blog article altogether!
Also, be cautious of humans! Lake Anna gets a lot of visitor traffic especially in the summer months. Some humans were just not raised properly and do inappropriate things like use peoples boat houses, remove things off boat docks and can be inconsiderate when boating, fishing, etc. Think about getting security cameras and keep your stuff locked up. We have a close nit group of friends in our neighborhood who band together forming a community watch program. Consider getting a dog … preferably one that likes the water. Visit the "Jake at the Lake" blog to find out how our Vizsla is exploring and enjoying all that Lake Anna has to offer! www.JakeattheLake.blog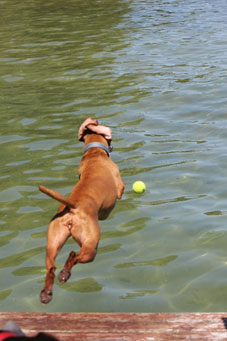 We love trees but one thing you might consider when purchasing is to ensure the trees are far enough away that they do not pose a threat to your home. We had over 12" of snow in January that wreaked havoc on the trees around the lake and along the roadways. Thankfully, no trees hit our home, but some folks weren't so lucky. We were, however, without power for 5 days. Having some form of power generation would not be a bad idea if you buy on the lake. Normally power outages don't last more than a day or two, but this was the perfect storm which placed a lot of snow on the trees and combined with 40+ mph winds were more than they could bear. Know the county and/or HOA rules on taking down trees as it is not always legal to do so especially when clearing to enhance your water view.
Dominion Energy owns the lake and the land immediately surrounding the lake. Permits are required to build piers, docks, and boat houses. The number of feet of water frontage factors into the size of the structure you can build on a property. With regards to taking the plunge make sure you have adequate depth at the end of your dock or anyone's dock before jumping in especially headfirst! Even though Dominion Energy owns a nuclear power plant on the lake, Rappahannock Electric Cooperative provides the electricity for homes around Lake Anna. Most every home on the lake either has their own private well and septic systems or some form of a community system. Homes in our community have their own individual wells and septic tanks but effluent is pumped to community drain fields located throughout Sunset Cove.
These are just some things you might consider when deciding to become lake people. Hopefully, this information will help you in making the right decision for your family. Feel free to contact us should a question arise. If we don't know the answer, we'll get you in touch with someone who does!
It's Better to Wake at the Lake!